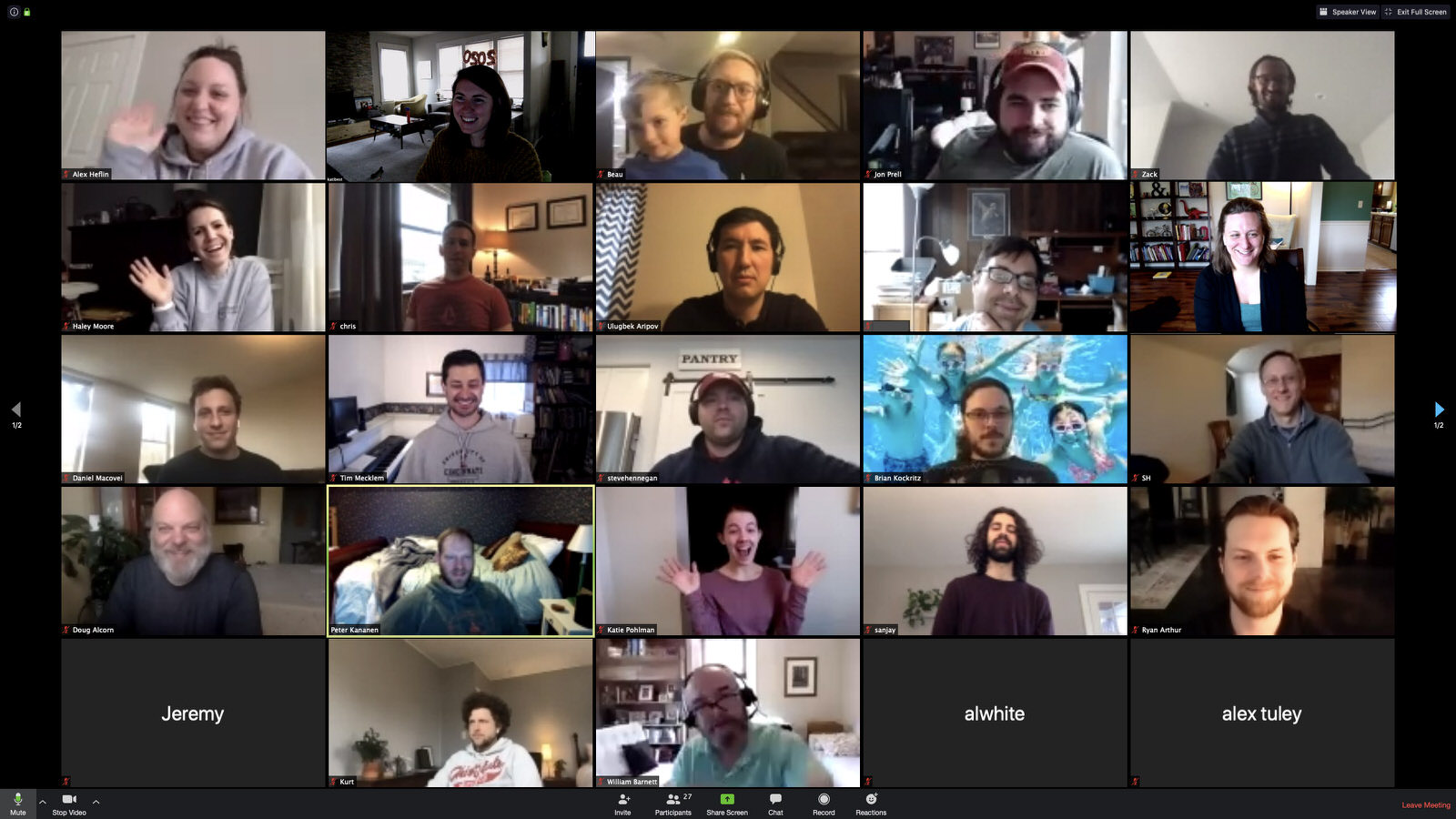 19 March 2020
What 'Better Together' looks like when we're not together
It's probably accurate to say that few of us expected even 10 days ago to be in the social situation we have today. Our communities, schools, workplaces, country, and even the world have dramatically changed seemingly overnight, temporarily altering our normal social and economic lives.
Like other software consultancies still operating with a physical office prior to COVID-19, we've made the transition to remote work quite easily. We're fortunate and thankful to have this luxury in our industry when many others do not have the option to bring their work home with them. We began working from home on Monday, firing up our machines perched on top of a coffee table, kitchen counter, or from a third-floor bedroom. Our Zoom calls have featured more dogs than usual, often along with kids in the background. Our work-from-home rookie status was clearly on display, but nonetheless, we adapted quickly and are operating as close to normal as possible.
As remote work has swept the software development world over the last 5–10 years, Gaslight has been a bit of a holdout. During that time we have still enjoyed coming to the office, inviting clients to work alongside us, hosting meetups and events in our space, and being part of the Cincinnati Central Business District. When asked about this decision, we'd respond by citing the value of in-person collaboration (rooted in the Agile Manifesto), and then by inviting that person to Friday Coffee. Over the last 10 years, we've welcomed well over a thousand people into our physical spaces. The spread of COVID-19 emphatically puts a pause on the physical space, and, thanks to the web, our ways of working can adapt quickly, but the question of fostering community has hung in our minds this week as a lingering question. How can we be 'Better Together' when we're not together as much?
Web-enabled software has been a paradoxical force for social connectedness over its short history. We have built robust social networks that both connect people around the world and also can contribute negatively to mental health (1). The growth of the global economy has been accelerated through the internet, but the contribution to wellbeing hasn't been evenly distributed. The power of the internet allows for enormous scale and reach, and that means smaller businesses have sometimes been left behind. The impact of COVID-19 will likely exacerbate all of these issues. This is a challenge we've embraced over the years—how can we build software in a way that builds community instead of undermining it?
Our response to community and social connectedness as a company in this extraordinary time should prove that 'Better Together' is one of our core values. Here's what we're doing to invest in the community during this strange time:
Commitment to our local communities and economy
We're taking our team lunch budget for the next month and distributing it to our team so they can order lunch on Friday from restaurants in their local neighborhoods. If we want these restaurants around 6 months from now, we need to support them today.
Alternatively, our employees can choose to donate that money to a local non-profit or effort working to help their communities during this period.
Commitment to our clients
We have clients that are facing significant disruption in their industry. We are offering support hours at no cost for these clients to help them through this time.
Some of our clients are serving hyper-critical roles in the supply chain and food retail industry. Their business is strong during this time, but they're also under incredible strain. We're standing beside them as partners and are committed to stepping up when they need extra help.
Commitment to the Cincinnati technology community
We're bringing all of our physical events online. While Gaslight Coffee might be canceled at the office, we'll be hosting a virtual meetup (https://zoom.us/j/811230445) so we can connect with others and build community. Going online means there's even less of a barrier to hang out with us! We're working on logistics for our other events and look forward to virtual meetups soon.
We're also starting a mini-podcast of sorts called Fireside Chats. We are sharing stories about Gaslight, favorite memories, and personal experiences as a way to keep connected as a company and community.
It is looking like we have a new normal for some period of time. While we are not sure for how long, we are sure that we as a community will only weather this storm by coming together (even if physically apart). As the social and economic landscape develops, things will change. We are all-in. Let's figure this out together.
Heads up!
This article may make reference to the Gaslight team—that's still us! We go by Launch Scout now, this article was just written before we re-introduced ourselves. Find out more
here
.